See the original article at Tilt-Up.org
NJFX's Tier 3 carrier-neutral HIPAA-compliant data center was recently recognized by the Tilt-Up Concrete Association (TCA) for construction excellence. Founded in 1986, TCA is comprised of architects, engineers, suppliers, general contractors, concrete subcontractors, and developers that support site-cast Tilt-Up construction techniques.
This is a special construction technique using concrete and is known for:
· Energy efficiency
· Safety
· Security
· Durability
· Expandability
· Sustainability
NJFX's highly reliable and secure facility was built using this technique and joins over 10,000 buildings, enclosing more than 650 million square feet, which are constructed each year using this construction method. Designed to withstand a Category 5 hurricane, NJFX's unique facility is located at a Cable Landing Station (CLS) campus, a critical juncture for four subsea cable systems, as well as multiple carriers and terrestrial networks. When the HAVFRUE subsea cable lands at NJFX in Fall 2019, NJFX will officially be a purpose-built Tier 3 CLS. The facility provides robust connectivity options via two campus Meet-Me-Rooms, generating a high-resilience, fully redundant, low-latency network with direct interconnection options for service providers, enterprises, carrier-neutral operators and cable companies.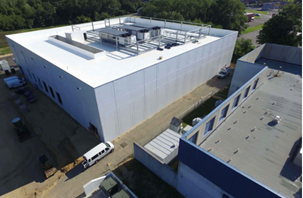 BUILT TO LAST
NJFX's SSAE-16/18 datacenter facility features 24×7 on-site security and N+1 indoor generators with onsite fuel for up to five days of uninterrupted emergency service.
"With our growing ecosystem and all of our robust connectivity options, there is a large demand on the HVAC system, making energy efficiency even more paramount," comments Cliff Gasior, VP Operations and Engineering. "The NJFX data center was constructed using tilt-up concrete sandwich-insulated walls. All in all, this enables us to meet stringent criteria for energy efficiency."
Established to honor projects that use site-cast title-up concrete, the Tilt-Up Achievement Awards showcase new building types, advancements and unique building solutions. NJFX was considered for a Tilt-Up Achievement Award due to its design for critical data integrity, the ability to withstand a Category 5 Hurricane, and the ability to deliver advanced energy efficiency due to the critical nature of the environment for data storage.
To learn more about our leading Tier 3 data center, please contact info@njfx.net.