Carrier-Neutral Cable Landing Station Campus
NJFX COVID-19 RESPONSE
As a designated critical infrastructure site, NJFX is always prepared and ready with an emergency response plan. The COVID-19 pandemic is unique. NJFX is adapting to a fluid situation, enacting new protocols, modifying them continuously and updating our procedures as those protocols are updated.
First and foremost, we pledge to protect and maintain the health and safety of our employees, customers and vendors. Our long-standing continuity plans are in place, with added emphasis on hygiene and cleanliness at our facility. Only our designated essential employees are on site.
As a society, the shift to an increased reliance on technology, and the role of NJFX in that shift, is something that we take very seriously. We are placing great importance on maintaining the level of operations that our customers have come to depend on and expect. Now, more than ever, it's paramount that our connected world remains so. We are working closely with our ecosystem of carriers and service providers to help however needed. We are ready to rise to the challenge.
Stay healthy, stay safe.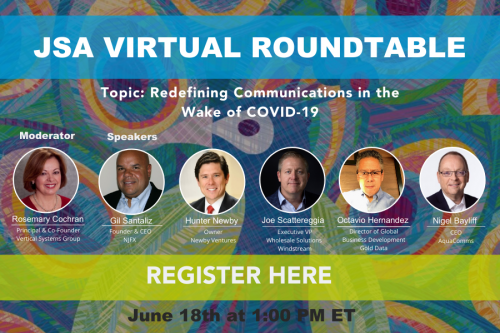 JSA Virtual Roundtable – June 18, 2020 – 1pm EST
CEO Gil Santaliz will be speaking with fellow panelists from Vertical Systems Group, Newby Ventures, Windstream, Gold Data, and...