Insights Shared by Google, Sparkle, & Lumen
March 15, 2022
Capacity LATAM 2022 Conference Fireside Chat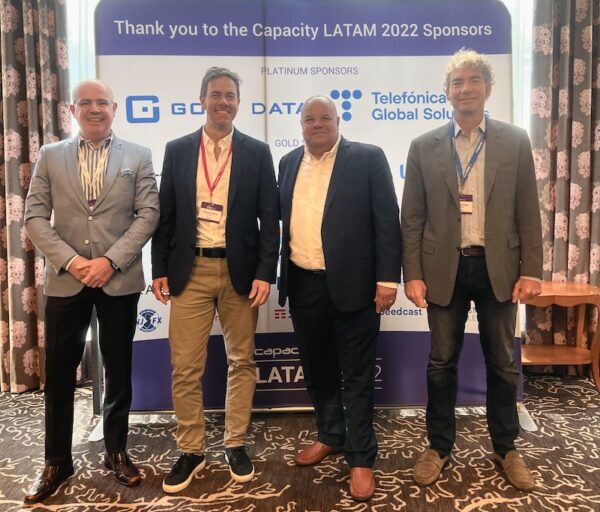 Capacity LATAM 2022 Conference was live in Miami with industry leaders networking and connecting in person for the first time in over two years due to the pandemic. The future of exploring transformative subsea projects was the main topic of a discussion moderated by Gil Santaliz, CEO of NJFX.
Subsea Keynote Panelists include:
Gil Santaliz, CEO | NJFX
Cristian Ramos, Network Development Manager | Google
Gabriel Holgado, Vice President of Sales | Lumen Technologies
Federico Porri, CTO | TI Sparkle
Each panelist shared their challenges, benefits, and advice going forward within the industry. NJFX CEO Gil Santaliz highlighted key issues the subsea industry faces and how this diverse panel overcomes new challenges.
Capacity LATAM, which had 700 attendees from 40 nations, is made up of a diverse set of companies that cannot exist without each other. In the telecommunication industry, there are many forms of partnerships, projects, markets, and joint ventures.
"This industry relies on long-term partnerships. It's important to have a commitment and trust on both sides. Both sides are taking a calculated risk and keeping open communication is key," Federico Porri, Chief Technology Officer of TI Sparkle, said. "Being able to gain trust and maintain trust and long-term partnerships is super important to us. If those variables are there, we look to accommodate partnerships."
Traditionally, consortium subsea cables to Latin America had many partners. In the last five years, the groups have reduced in size and some cables have been announced with just one owner. Firmina and Curie, both of which are owned by Google are examples of this new paradigm. The Firmina cable is going to be the biggest high-count cable in the U.S. and South America.
"It is a fascinating project. It is potentially equivalent to all the region's previous subsea capacity combined," Santaliz added.
"One of the biggest decisions we had to make was landing it in South Carolina. The other big challenges the subsea industry is going to start facing is how to start to diversify landing points and build more reliable anchorages," Cristian Ramos, Network Development Manager of Google said.
Cristian Ramos added, "Another big decision was putting a 18KV PFE for a very long distance cable. That is the first cable that will have the technology built in and it's how we can minimize the time to build. This cable will link Argentina to the U.S., but it will have connections to Uruguay, Las Toninas, and Praia Grande."
When asked about whether Firmina is going to change the fiberoptic landscape of Latin America, Gabriel Holdago, vice president of sales at Lumen, replied, "It is a significant technological breakthrough for the region and the economy, the contribution having these countries being connected and getting traffic connectivity and content. The contributions are huge – a lot of opportunities and for the new generations there is a lot of internships and innovation."
"There is a project called Confluence that is being built and it connects Boca Raton to Jacksonville, Myrtle Beach, Virginia Beach, and to NJFX in Wall, New Jersey. It's going to solve a U.S. issue, we have already seen a lot of the banks talking about critical rings in the U.S.," Santaliz said.
Santaliz asked, "Are there going to be any more of these projects we haven't seen before that actually land in LATAM to be commensurate with all the new infrastructure being built?"
"There are a number of cables in the Caribbean area that are going to be the end of life in a few years and of course, Sparkle will be a part of all new development projects," Federico Porri said. "When you see the development of the subsea system in the region the next step is how to get additional redundancy. You have the ability to add terrestrial over your subsea and over time create small rings. What I foresee is to continually develop the terrestrial and subsea infrastructure in order to not only get redundancy at those stations." Porri added that the objective is to add capacity in smaller cities as an additional next step.
At the end of the conference, Holdago updated the conference attendees about Lumen's  $2.7 billion sales of its Latin American business to Stonepeak.  The agreement includes reciprocal reselling and network arrangements to enhance each other's fiber footprints, data centers, and network assets.
Holgado adds, "All the subsea systems, terrestrial cables, all the networks, cable station, the data center will be a part of this new company. We will announce a new company in Latin America and a new brand running the LATAM operation. It is a strategic partnership between Lumen and the NewCo in order to rely on the services that we both require on both regions and vice versa."
At the close of the panel, Santaliz asked the audience about their preferences regarding where to hold next year. COVID restrictions prompted organizers to host it in Miami, but attendees seemed most enthused about bringing it back to Brazil.
About NJFX
NJFX owns and operates a 64,800 square foot purpose-built Tier 3 Cable Landing Station (CLS) Colocation campus in Wall, NJ. This unique campus is the only carrier-neutral CLS colocation campus in the U.S supported by several route-independent carriers that offer direct access to multiple independent subsea cable systems interconnecting North America, Europe, South America and the Caribbean. The facility offers direct access to TGN1, TGN2, and Seabras. The building is the subsea cable landing of HAVFRUE/AEC2 this year as well as the Confluence system in the near future. High and low-density colocation solutions are available with 24/7 support.