One thing we know is true, there has been no lack of challenges this past year. It's fitting then that the theme for International Women's Day 2021 is "Choose to Challenge". The idea is that from challenge comes change, and there has been no shortage of that either. Our world came to a screeching halt almost exactly one year ago.
At NJFX, our business development model relies on building relationships, attending industry conferences and speaking on expert panels around the world. A year ago, just a few days shy of a national shutdown of much of the U.S., Sarah Kurtz, Business Development Manager for NJFX hosted an international delegation in our lobby. Among the attendees was Natalia López, the Head of the Telecommunications Development Fund Division for the government of Chile. In her effort to drive initiatives to improve Chile's telecommunications infrastructure, she is leading the Asia South America Digital Gateway Project.
"We learned a lot about considerations for power, backup power, location and more," stated López. "We found our tour of the NJFX facility enlightening and fascinating. It's truly a unique campus with access to several subsea and terrestrial routes."
Considered a reverse trade mission, the delegation visit was the last official event for NJFX in 2020. And very quickly, our business development became a virtual endeavor. With Kurtz leading the charge, the team at NJFX pivoted to nurture the relationships she had begun to build over laptop screens and computer monitors. And she definitely was up to the challenge.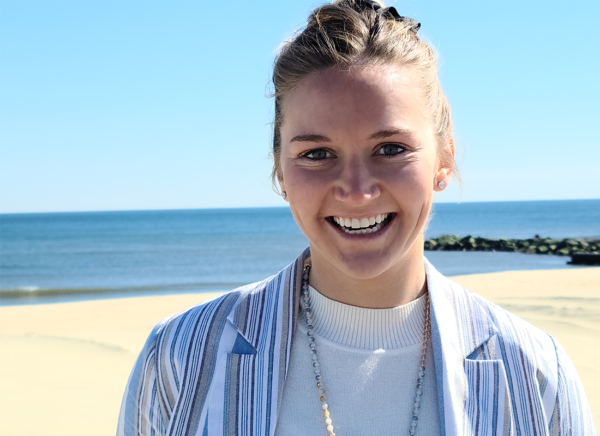 "I joined NJFX in October of 2019. During my first six months, I traveled to London twice, to Hawaii and also to San Francisco. I was only home for three days in February of 2020. Then it all just stopped. I immediately had to find new ways to network without being face to face with people," comments Kurtz. "In my world of business development – the face to face interaction is crucial. But with everyone in the same situation, the pivot was the only option. My six months of relationship building needed to be nurtured. Suddenly, I had to figure out how to do that virtually."
As the world looks forward to a day when we can return to face-to-face networking and traveling freely, Kurtz has taken on the role of also nurturing young talent in the infrastructure industry. As a member of the SubOptic working group on Diversity, Inclusion and Belonging, she is highlighting opportunities for others like her.
Her advice is simple, never miss an opportunity. "There are so many people out there who want you to succeed. Take every opportunity you are given. Find mentors and seek out role models. There has never been more of a desire to help women and people of color succeed. Take the mentorship opportunities and run with them!"